Ford Vane/Piston Pump Conversion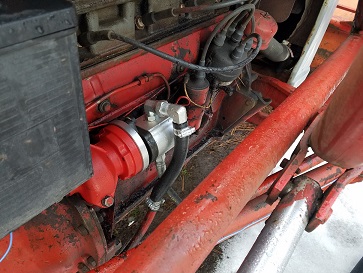 Aging OEM pumps of both types have become a major maintenance issue with the NAA, Hundred, and early Thousand series tractors and often fail to maintain prime and/or fail to produce full output pressure and flow. Because service parts are no longer available for the older vane type pump the only recourse for servicing them has been to replace the pump with a rebuilt piston pump. Doing so also requires replacement of the hydraulic lines or hydraulic manifold going to the rear of the tractor and finding the proper parts can be both difficult and expensive. In addition a professionally rebuilt piston pump typically sells for well upwards of $700 and just the parts for a DIY rebuild costs $200. With these issues in mind Windy Ridge Machine has designed a conversion kit which replaces either style OEM pump with an inexpensive industry standard gear pump. The replacement gear pump has a displacement of .55 cubic inches and produces the same flow as the OEM pumps - roughly 4.2 GPM at 2000 engine RPM. The conversion is a simple bolt on replacement that uses the OEM Ford NCA-905C piston pump gear housing, an adapter flange, and a custom designed replacement for the piston pump wobble shaft. The redesigned drive shaft is mounted in the gear hosuing using the OEM needle roller bearing, a replaceable hardened inner race, and a 6205 single row sealed ball bearing. The OEM hard lines are cut off and reconnected to the new gear pump using short lengths of hydraulic hose and tube fittings. The entire conversion can be done in about an hour using just a few common hand tools.
The conversion kits cost $575, come fully assembled ready to bolt on, and include the following:
new SAE-AA gear pump
SAE-AA pump adapter plate
Ford NCA-905C piston pump gear housing
Ford C0NN908A piston pump drive gear
redesigned drive shaft with new ball and needle roller bearings
all hydraulic hoses and fittings needed to connect the gear pump to the existing steel hydraulic lines on the tractor
That price includes a $175 core charge for the piston pump gear housing and a $25 core charge for the camshaft drive gear that come with the kit ($200 total core charge). Those core charges will be refunded if you return a good usable piston pump housing and a good camshaft drive gear. The vane pump housing/gear and early piston pump housings that used a ball bearing on the wobble shaft can not be used as cores.
NOTE: For later Hundred and Thousand series tractors that have a cast aluminum hydraulic manifold and hydraulic lines that run through the transmssion a transmssion port adapter flange is required at an addional cost of $40.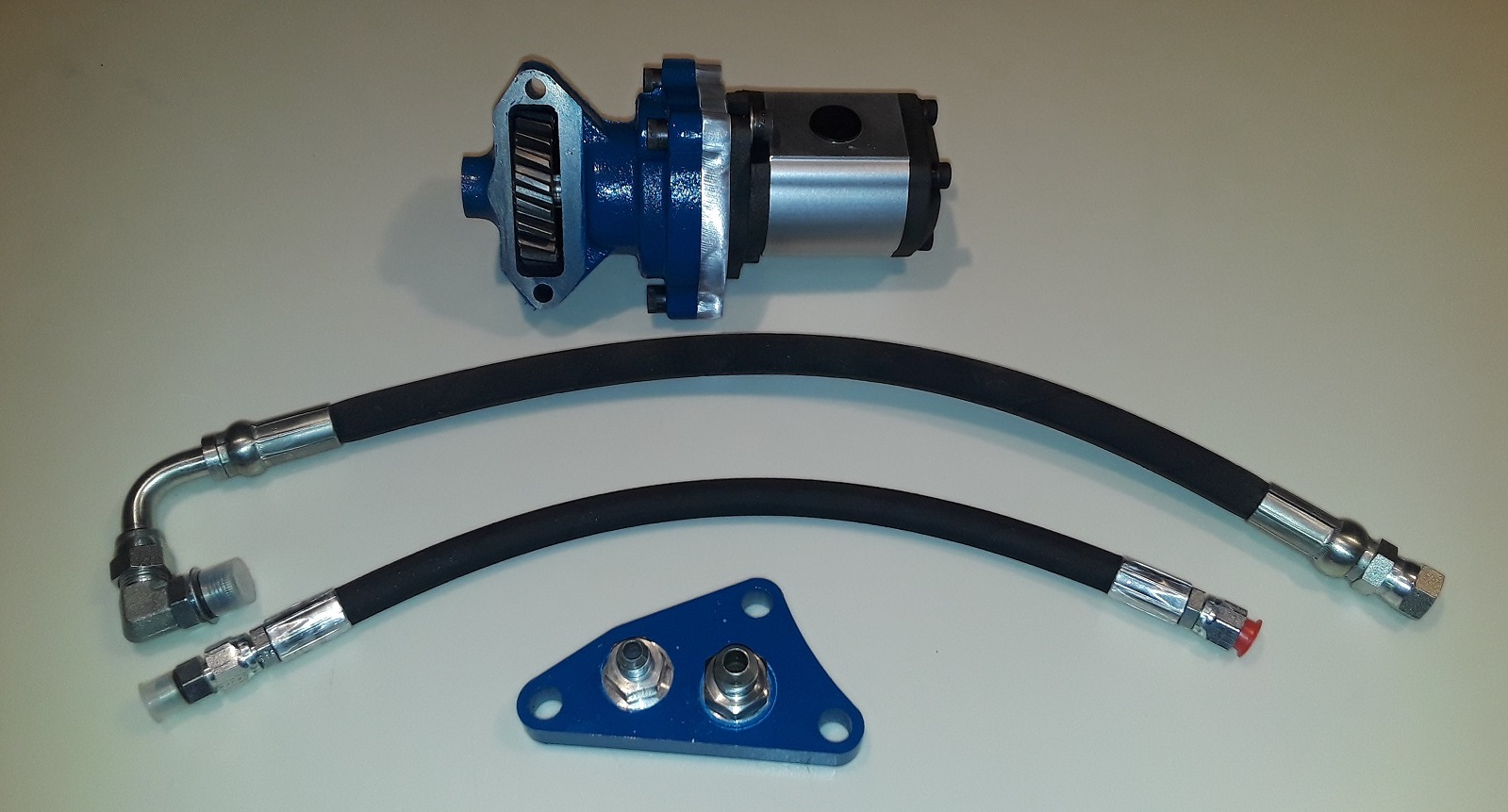 1953-1964 Ford Tractor Gear Pump Conversion Kit
with optional transmission port adapter flange